Family scripture study is something that Casey and I work hard on. Sometimes it doesn't happen. Sometimes it is just a few verses. Sometimes not everyone is pleasant. But we try hard to make it an important part of our bedtime routine.
The dilemma was Devin doesn't really have the attention span to sit and listen to us just read. But he can sit and listen when there are pictures. Last winter, I started searching to find something that was on an 18 month old level. I didn't want the "Scripture Stories" manual because that was too big for his hands to "read" independently. I have an obsession with 4x6 photo books and so does Devin. I was considering cropping pictures from the Scripture Stories manual to then print them on pictures. I didn't want to pay money to download something.
Eventually I found the perfect Book of Mormon for a toddler at
The Idea Door
. She complied all of the
Book of Mormon Characters
by James H. Fullmer into 4x6 photo cards. (Seriously click on both of those links!! You won't be disappointed!) I found an old photo book that has a hard blue cover. It reminded me of the "missionary" Book of Mormon. My book has 24 places for photos. So I selectively chose the most important 23 characters from The Idea Door for his scriptures. (I was considering printing them all and then rotating the pictures depending upon who we were actually reading about. This might be a good idea for an older child, but I know it would just confuse Devin right now. The real reason I didn't do this though is because it made a ton more work for me. I just wanted to be done.)
For the 24th picture, I picked my favorite picture of Jesus Christ among the Nephites from
LDS.org
. I downloaded a large picture then cropped it to 4x6. The BoM Characters don't have any picture of Jesus and it just seemed like the Book of Mormon needed at least one.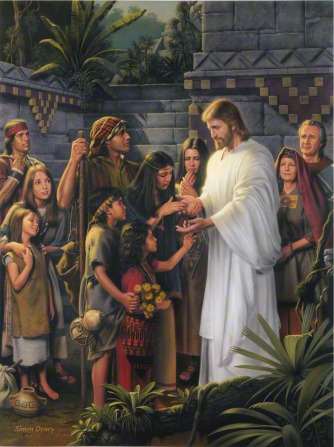 Devin absolutely LOVES his scriptures and insists that he has to have his while we read ours. Some nights we have tried to hurry and skip getting his out but that never works. I love that he can find almost any of the main 24 characters and he gets so excited sitting in Sacrament Meeting when he hears a reference and he recognizes the name. He knows who the speaker is talking about and pays attention for a few seconds.
And I just have to say.... I love what he calls Alma and Alma the Younger. Alma is "Elmo's Daddy" and Alma the Younger is "Elmo." It cracks me up every time. But he loves the scriptures and the hope is this love will continue for life.